WEZE 590AM has made it easier to listen live and learn more about your favorite programs and hosts, tag and listen to shows you missed recently, and more.
The WEZE 590AM interactive radio player, powered by AirKast, gives you the freedom to listen and interact with WEZE 590AMs programming, anytime and anywhere.
No registration required.
Listen Live and More
In addition to listening live to WEZE 590AM, you can check out the stations and talk show host information. Need to check email, send a text message or surf the web? Simply press the BlackBerry menu button and select minimize. When youre done, return to the full Player.
You can also explore and listen to new shows and talk show host shows. Weve given you the ability to listen to the show when its ideal for you.
Listen live
See station and talk show host information
Discover new talk show personalities
Listen to your favorite shows anytime, anywhere
About WEZE 590AM
WEZE 590AM brings the Word to Boston, providing Christian teaching and talk programs from both national and local ministries to a loyal listening audience.
Christian teaching and talk programs include Leading the Way with Dr. Michael Youssef, Church of the Midnight Hour with Bostons own Pastor Bruce Wall, Hope for the Heart with June Hunt, In Season and Out of Season with Rev. Tom DiLorenzo, and Focus on the Family with Jim Daly, Dr. Julianna Slattery, and John Fuller. Other programs include Jay Sekulow Live, which addresses constitutional rights and legal issues, and Talking About Health, which addresses health concerns of listeners.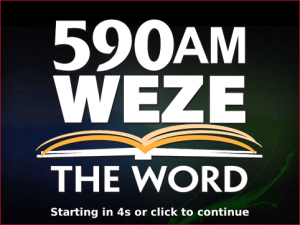 App Name:590 WEZE-AM
App Version:2.3.0
App Size:719 KB
Cost:FREE
Filed Under: Audio & Music Tags: Jay Sekulow Live, John Fuller, Julianna Slattery, WEZE Previous Post: Bob 93_3
Next Post: Key 103