93.1 Doug FM has made it even easier to listen live. But, more than that, you can check out lyrics as the songs play, see artist and album information, discover fresh new music, add favorites, buy songs, and more.
The 93.1 Doug FM interactive radio player, powered by AirKast, gives you the freedom to listen and interact with 93.1 Doug FMs programming anytime and anywhere.
No registration required.
Listen Live and More
In addition to listening live to Doug FM, you can check out lyrics as the songs play, and see artist and album information. Go ahead and click the trackball or tap the screen depending on the BlackBerry device for full view of the CD, slide your finger across the trackball or screen to view the back like a real CD, view other songs on the CD, and even read reviews.
Listen live
See lyrics, and artist and album info
Add to favorites and buy songs
About 93.1 Doug FM
93.1 Doug FM is Detroits most unique radio station for adult music lovers. Covering more than five decades of hit music styles, Doug FMs commitment to play everything can be seen in the stations extensive play list. The Rolling Stones, John Mellencamp, Bob Seger, U2, Bruce Springsteen, Elton John, The Beatles, Fleetwood Mac, Earth, Wind and Fire, and The Cars, are just a few of the hundreds of artists found on Doug FM. However, Dougs uniqueness comes from the songs and artists found between the mega stars. Artists like Frank Sinatra, Bob Marley, Johnny Cash or Al Green are what give Doug its everything flavor. Doug FMs unorthodox music mix makes the music the star with noted hourly input from the listeners.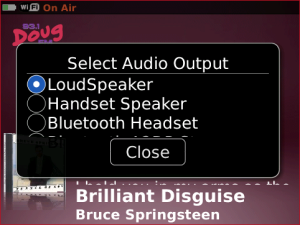 App Name:93.1 Doug FM
App Version:2.4.0
App Size:752 KB
Cost:FREE
Filed Under: Audio & Music Tags: Bob Seger, Bruce Springsteen, Fleetwood Mac, Frank Sinatra Previous Post: Mobion Music
Next Post: HITS 96