The Selby Jennings Group is the foremost provider of recruitment solutions across Europe, Asia, the USA and the Middle East.
Use this sophisticated yet straightforward app to quickly and effectively navigate your way round a broad variety of up-to-date, executive vacancies. The Selby Jennings app also enables potential candidates to harness the following functions making finding the perfect job package a pleasure:
- Market Intelligence / News: Current & relevant rss feed and regular market updates.
- Dedicated Candidate area: Helpful advice on a variety of subjects from resignation to interview tips.
- Registration: Establish an open dialogue with our elite team of highly skilled professionals to acquire detailed information on any relevant vacancies.
- Job search: A targeted search facility broken down into specific areas for your convenience. Covering all sectors within the Financial Industries Environmental to Sales all areas are covered in this comprehensive breakdown with key details for every available position.
- Recommend: Know an acquaintance who may benefit from the SJ app also? Use this fast, handy function to help them access the app.
*** With version 1.5, connectivity issues have now been resolved. If you experienced trouble, please try updating the app. ***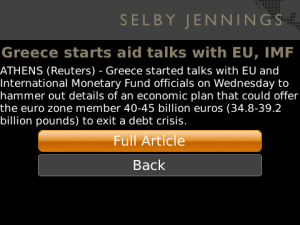 App Name:Find Your Next Job
App Version:1.5.1
App Size:72 KB
Cost:FREE
Filed Under: Business Apps Tags: Dedicated Candidate, Recommend Know, Registration Establish, SJ Previous Post: Telicost Mobile
Next Post: CityReporter