SECURE text messaging for your business. Contact us at TigerTextPRO.com for a demo. TigerText Business Solutions reduce e-discovery risk and cost of IT administration while extending mobility to employees. Install TigerTextPRO on every smartPhone in the office and use it for mobile messaging and broadcasting. TigerTextPRO works on most smartphones. Some of the benefits include:
Send Self-Destructing Text Messages once its gone, its gone
Message Status Notification – Know when a message is received, opened & expired
Encrypted Transmission of Time Based Information & Broadcasting to the company
Preview Protection, Set Lifespan, Secure
Open communication with other TigerText users or maintain a walled garden.
Set the message lifespan, delete on read and other message attributes
Not subject to traditional usage based text messaging plans
Works on WiFi for difficult coverage areas
Pictures and International Texting at no additional cost
Requires an administrator account before use. Get your iPhone users to download the TigerTextPRO application for SECURE so your private communication network can begin today. TigerTextPRO gives you Safety Through Privacy.
HOW DOES TIGERTEXTPRO WORK?
When sending a regular text message, the message sent will live on the receivers phone until the recipient decides to delete it. The text message will also reside on the cell phone companys server for an unlimited amount of time. TigerTextPRO is different because, even though it looks and feels identical to a normal text message, the sender controls when the message is deleted from the recipients phone and the TigerTextPRO server. Reclaim the privacy of your companys secret text messages!
WHEN I SEND A TIGERTEXTPRO MESSAGE, WILL I BE CHARGED STANDARD TEXT MESSAGING FEES FROM MY CELL PHONE CARRIER?
No. TigerTextPRO does not use your standard text messaging service therefore you will not incur standard text messaging fees for sending TigerTextPRO messages. NOTE: You will still be charged for any standard text messages you send outside of TigerTextPRO.
WHAT DOES "DELETE ON READ" MEAN?
Delete on Read indicates a message will be deleted 1 minute after the receiver opens the message. When a message is sent with Delete on Read as soon as the recipient opens the message a countdown clock begins at 59 seconds. When the clock reaches 0 the message is deleted from the TigerTextPRO server and the TigerTextPRO application on the users device.
WHAT IF I SEND A TIGERTEXTPRO TO SOMEONE WHO DOES NOT HAVE TIGERTEXTPRO INSTALLED?
The user will receive a message from TigerTextPRO that encourages them to install the secure reader. Once the secure reader is installed, the user can read any message you send. Both users must have TigerTextPRO in order to communicate through the platform.
ARE TIGERTEXTPROS COPYABLE?
TigerTextPRO was designed for casual users who dont want a record of all their sent messages kept. But if someone really wanted, they could find a way to video capture your TigerTextPRO, take a screen shot, or take a photo of their phone. While TigerTextPRO does not allow a user to save a message, TigerTextPRO cannot promise that your messages will not be copied by some alternative means.
TigerTextPRO puts the control back in texting. You can text secure with anyones smartphone and know when your message has been delivered, read, and oh-by-the-way, control when it gets deleted from their phone and yours.
TigerTextPRO is personalized smart phone messaging that lets you interact and chat with your friends. Fun, fast and wickedly cool, TigerTextPRO is the newest way to connect and express the real you!
Secure Text Messaging
Secure Tiger Text Messaging
TigerText for Business
TigerTextPRO is a Secure iPhone App
Secure Mobile Messaging
Secret Text
TigerText PRO
Tiger Text PRO
Follow us on Twitter @yourprivacy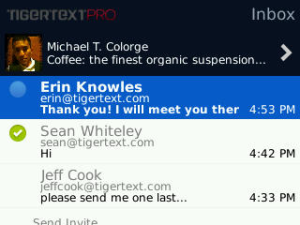 App Name:TigerTextPRO for Business
App Version:2.12920.0
App Size:662 KB
Cost:FREE
Filed Under: Business Apps Tags: IT, Preview Protection, SECURE, Set Lifespan Previous Post: RingCentral Mobile
Next Post: iPinion