Time Tracking with timr means you no longer work unpaid!
timr consists of a very easy to use web application timr.com as well as an app for your BlackBerry. Track your times by using the web application in the office and your BlackBerry on the go.
Your BlackBerry time entries are always in sync with the web application, no manual synchronization needed!
timr offers free accounts as well as premium accounts based on a monthly fee. After downloading the application you have to sign up for a 30 days unlimited free timr trial. Within this trial period you can decide for a free or premium account.
Features:
* Work Time Tracking
* Project Time Tracking
* Drive Log
* Multiuser
* Position Tracking
Please visit http://timr.com for more information and detailed pricing models.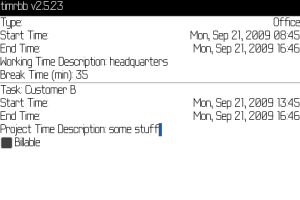 App Name:timr – Time and Mileage Tracker
App Version:2.8.48
App Size:142 KB
Cost:FREE
Filed Under: Business Apps Tags: App Name Previous Post: Citrix Receiver
Next Post: Wappa Usuario