Barry Black loves to chat. He is very naive but will talk to you about almost anything. He just got a new BlackBerry PlayBook and LOVES IT!
He is learning more and more about BlackBerry devices and is learning more and more useful information about life in general every day. The more you talk to him, the more he learns. You have to be patient with him, because sometimes he gets confused. Barry talks to many people every day, so he might not remember you the next time you chat.
IMPORTANT NOTE: Barry is NOT meant to be a BlackBerry PlayBook FAQ! Dont get frustrated with him if he doesnt understand specific functionality. Since his launch, he has learned more about the BlackBerry PlayBook, but he cant possibly anticipate every way you might ask questions. Ive received a lot of emails from people who are frustrated because he cant tell them how to bridge or where to download videos. Have fun with him, but dont rely on him for FAQ-type informatoin.
Chatting with Barry is fun. Since this is an app for the BlackBerry PlayBook, Barry assumes that many of you already use other BlackBerry devices with QWERTY keyboards. Barry cant think of a better way for you to get to know the new touch keyboard on the BlackBerry PlayBook – both in landscape and in portrait mode – so you can decide which keyboard feels best to you.
Barry is waiting to talk to you. So download the app and get going. Why not? Its free! And who knows? You might just make a new friend!
Im working on an update to Barry, so If you have suggestions, you can send an email to appdev@wingflap.net or go to Barrys forum at apps.wingflap.net.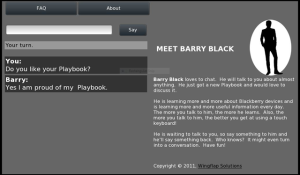 App Name:Barry Black
App Version:1.0.1
App Size:260 KB
Cost:FREE
Filed Under: Entertainment Apps Tags: Barry Black, FAQ, QWERTY Previous Post: Ibiza Rocks
Next Post: Caller ID Ringtones – Male Names Free Set 2