Make your life a little more like your favorite sitcom!
Comedy sounds is a canned laughter application, which gives you your own virtual audience that with a simple click reacts with:
Laughter,
Cheer,
Applause,
Giggles,
Disgust,
Boo,
Disbelief
etc.
You even have your own drum roll.
A must for all wannabe comedians!
This is an application that will not only make you funny, it will also give you happy smiles and a great look!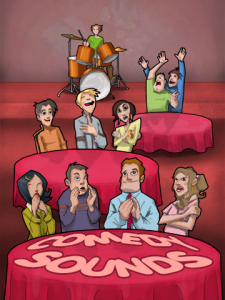 App Name:Comedy Sounds
App Version:1.0.0
App Size:1728 KB
Cost:US$0.99 USD
Filed Under: Entertainment Apps Previous Post: Are You Finding Mr. Right
Next Post: JK Nugget