Expense Recorder Features:
* Based on your inputs, the application will show various reports like
o Income Vs Expense
o Expense Vs Category
o Expense Vs Time
o Text reports
o Top 5 expenses
* Reset your entire or a part of data anytime
* Edit default categories.
* Add a payment type record
* Search your incomes or expenses even using note
* You can also set reminders for the recurring expenses.
* Alerts will be shown as per the timings you set
* Navigations are easier as navigation buttons are provided on each screen
* Screen shots of your reports can be taken & saved on to your BlackBerry
* Send your reports to your E-Mails.
* Exporting data as a CSV format file.
* Search for the reports & easily locate your expense records.
Checkbook Features:
* Manage your money using this application easily.
Transfer of funds from one checkbook to another.
Export the data by Email or CSV or text format.
Backup the data whenever you want.
Organize your checkbooks using group checkbooks.
Save recurring transaction & use it over & over again without retyping the details.
Every recurring transaction can be scheduled weekly, monthly, & only on the days you choose.
Option of tracking multiple accounts.
Password protected.
Home Budget Featues:
We can Enable/Disable the budget tracking.By default budget is Enable.When the Budget is Enabled/Disabled at any time the data which is stored in it should not be lost and the same data can get back.
oIf we disable the budget tracking,it works like a expense tracker.
oWe can add the entire budget at a time, Otherwise we can allocated the budget for different categories.
*When expense exceeds our budget, then user finds a message, showing that "do u want to update your budget". If user want to update the budget, then clicks Yes. Otherwise clicks No.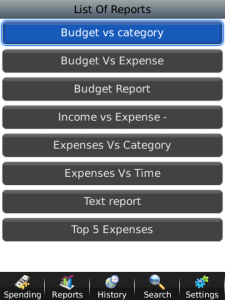 App Name:Finance Combo
App Version:1.0.0
App Size:940 KB
Cost:US$9.99 USD
Filed Under: Finance Apps Tags: Checkbook Features Manage, CSV, Expense Vs Time, Income Vs Expense Previous Post: Scotiabank Mobile Banking Launcher
Next Post: Pro Mortgage