Minimize your Burnout risk Maximize your quality of life. *** scientifically proven ***
Use the scientifically proven Burnout Check to find out about your room of improvement and prevent yourself from a burnout. Use 10 Minutes of your life to improve it forever!
There is a capability for improvement in everybodys life, identify it now.
Features:
- Answer quick and simple questions
- See your results in all categories clearly arranged in the result screen
- Exact and easy adjustment with slider
- Encouraging design – Start your new life with a smile!
This app requires an SD-Card. We strongly recommend using original SD-cards by SanDisk since others might be a lot slower.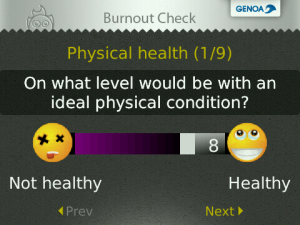 App Name:Burnout Check
App Version:1.0.4
App Size:583 KB
Cost:US$2.99 USD
Filed Under: Health & Wellness Tags: Burnout Check, SD Previous Post: Beaumont Hospitals
Next Post: Learn To Cook Japanese Style