Mobile by Citysearch brings you the best of your city from the palm of your hand. With the completely overhauled BlackBerry app finding local restaurants, bars, shopping and more has never been easier.
With the application you can find:
Simplified browsing Streamlined navigation makes it easier for you to explore your favorite restaurants, bars, shopping locations, spas, and other local services
Onetouch capabilities Editors Picks and Recent Reviews are only a click away, plus options like contacting a business, mapping an address, and saving a location to your contacts are now in a more simplified format
GPS enhancements Use GPS to set your current location to more easily find everything in your exact area
Keyword filters Need a fix for that late night pizza craving? Simply filter pizza under the Restaurants tab
Finding the best your city has to offer, one click at a time.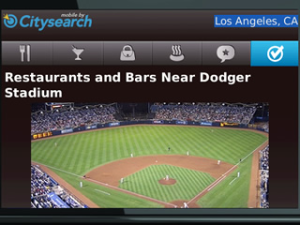 App Name:Citysearch
App Version:2.0.1150
App Size:9 KB
Cost:FREE
Filed Under: Maps & Navigation Tags: GPS Previous Post: PagineGialle Mobile
Next Post: Yellow Pages SA