Craving fast, easy access to multimedia news from Canadas leading media companies? The Canadian Press Mobile satisfies the news addict in all of us!
Developed by The Associated Press on its awardwinning mobile platform, this allinone mobile news application from The Canadian Press gives you the convenience of viewing, saving, sharing and rating stories, photos and soon video all displayed in a slick format and personalized based on your choice of postal codes and topics.
Select news from your favourite cities from categories such as business, sports, hockey, entertainment, technology and more. Launching the app updates and caches your content to keep you in the know when youre on the go, on a plane or underground.
The Canadian Press Mobile is your single access point to news from a growing list of reliable sources:
The Canadian Press Canadas national news agency with more than 250 journalists reporting round the clock in English and French.
The Globe and Mail Canadas No.1 national newspaper
The Toronto Star Canadas largest daily newspaper
CTV Canadas No.1 television network with coverage from British Columbia, Edmonton, Calgary, Winnipeg, Toronto, Ottawa and Montreal.
Transcontinental Eastern Canadas leading publisher with coverage from Nova Scotia, P.E.I, Saskatchewan and Newfoundland.
AP The essential global news network
Winnipeg Free Press The oldest newspaper in Western Canada
For a limited time, The Canadian Press is offering its mobile news application for an introductory price of $2.99 USD for a oneyear licence Only a penny a day for credible news from multiple sources! The app will also feature relevant ads.
What users say about the AP Mobile platform leveraged by The Canadian Press:
Really like the interface. This is the first BB app that I go to for news.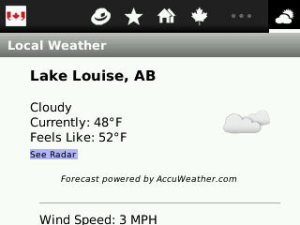 App Name:The Canadian Press Mobile
App Version:3.1.0
App Size:1720 KB
Cost:US$2.99 USD
Filed Under: News & Magazines Tags: BB, British Columbia, Nova Scotia, Transcontinental Eastern Canadas Previous Post: President Montilla
Next Post: Ultra Noticias