Intel Warnai Hidupmu or Color Your Life in English, is a BlackBerry application made by 7Langit and presently by Intel for Indonesian BlackBerry users.
What can we find in this Application?
Who are We? Brief information about Intel and its official website address, and Warnai Hidupmu BlackBerry App, another creation of 7Langit the BlackBerry Elite Alliance Member. Provides inspiring information that inspires the use of technology in the life of all Intel users from housewives to professional musician, and you.
Get Powered Up! Gives handy information about latest Intel products. Providing map location complete with address and phone number, Seller Location menu is very helpful for users to get to the nearest store. Better not skip the Promotion menu to get the best offer for Intel products.
Intel Updates Get the official information directly from Intel to your Blackberry, includes the latest products and Intel events near you. Registration for Intel events is also available via your Blackberry.
What Powers You? The reading that encourages everyone to make the most of technology use in their daily activities, and living a more comfortable life. Spread the benefit to your friends via Twitter and Facebook.
Game On! Time to show some creativity using the technology. Find useful new places in a fun way with the Checkin Challenge. Pour your creative ideas into image, video and music. Limited exclusive Intel merchandise is available for the best creation. Always new challenges, and get the notification in your Blackberry.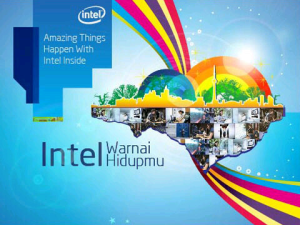 App Name:Warnai Hidupmu
App Version:3.0.0
App Size:827 KB
Cost:FREE
Filed Under: News & Magazines Tags: Checkin Challenge, Seller Location, Warnai Hidupmu Previous Post: Concrete Loop
Next Post: Trendstop Fashion TrendTracker