Add Typical BIG Eyeglasses Frame on your photo, Just Be There in any sport event/fair/competition, make some color and unique!
PhotoClub enables your BlackBerry? as a funny make machine with photos! It includes Adjust Photo, Add Clipart, Add Frames, Add Effect and Add Custom Elements these useful and funny functions.
If you love a free trial you can search PhotoClub at BAW, there is trial version for you as well. But you will feel deserved to unlock this top ranking app to without watermark via shopping this item. You can trust us!
Changelog in 2.2.1:
1. Fixed the bug of saving pictures on 9900;
2. More delicate icon on OS7;
3. Add a default path for saving online cliparts and frames;
Tips: Shorcut keys for move items: press alt + navi key to move pixel by pixel, or press alt+shift in speedy
Tutorial video at Youtube by search PhotoClub MMMOOOO or Visit Road map page link at Help
When exported the photo edited by PhotoClub, you can use it as wallpaper, screensaver to personalize your phone; share with your friends as MMS, Email attachment or upload to any photo sites you like. You can also use it on Twitter, MySpace, MSN Messenger, as an AIM buddy icon, a Skype avatar, a message board avatar.
Features:
1. 6 functions to deal with your photo, you can use one of them or some of them in one time
2. You can add own custom cliparts or frame
3. Easy to use, speedy in operation
4. Premium Free link inside to enjoy more than just one art designing from MMMOOO
Tips:
1. You may resize the photo firstly to enjoy a speedy and smooth operation
2. Custom elements must be in transparent .png format
3. To move a clipart in QWERTY models , press alt + navi key to move pixel by pixel, or press alt+shift in speedy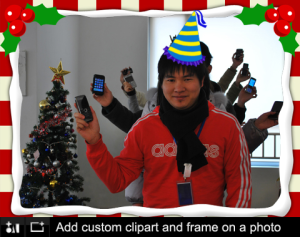 App Name:PhotoClub with Typical BIG Eyeglasses Frame
App Version:2.2.1
App Size:1963 KB
Cost:US$6.99 USD
Filed Under: Photo and Video Tags: Add Clipart, Adjust Photo, Tips Shorcut, Visit Road Previous Post: Symmetry
Next Post: Radical Draw with Photo Editing