The 53 Stations of the Tokaido, Hoeido Edition, published in the late Edo Period, was a series of ukiyoe illustrating the 53 inn towns that were established by Tokugawa Ieyasu to connect the 495 km between Nihonbashi in Edo with Sanjo Ohashi in Kyoto around 400 years ago.
The vivid blue color known as Hiroshige Blue and the bold compositions are said to have influenced even Van Gogh and Monet.
We bring you Utagawa Hiroshiges masterpieces that enthralled the world, in high resolution images.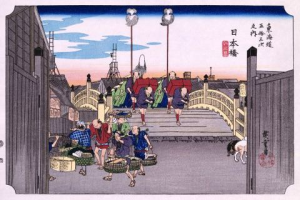 App Name:Utagawa Hiroshiges The 53 Stations of the Tokaido Ukiyo-e All 55 Images: Photo Collection
App Version:1.0.0
App Size:5533 KB
Cost:US$0.99 USD
Filed Under: Photo and Video Tags: Edo Period, Hiroshige Blue, Hoeido Edition, Utagawa Hiroshiges Previous Post: Rice and dishes
Next Post: World Heritage Norwegian Fjords Photo