Twitter Photo Uploader is a fast way for you to upload photos from your BlackBerry to your Twitter account! It is the most simple, quickest and convenient way to share your photos with your followers! In addition to uploading a photo, you can customize your own tweet message alongside the photo. Whether you want to take a photo with the camera, or simply share an existing photo, Twitter Photo Uploader is your 1 choice to update your followers!
Features:
Take a photo with your camera, and upload this new photo right to Twitter!
Choose an existing photo on your device, and upload this photo right to Twitter!
Also includes lifetime upgrades and warranty. Start updating your followers now!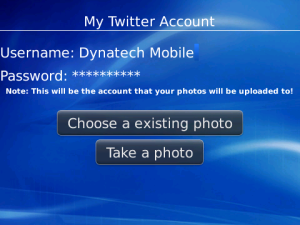 App Name:Twitter Photo Uploader
App Version:1.5.0
App Size:122 KB
Cost:US$0.99 USD
Filed Under: Social Networking Tags: Twitter Choose, Twitter Photo Uploader Previous Post: Launcher for Twitter
Next Post: Sudoku.