Stay current on the hot sports news and topics of the day with Sports Illustrated s free application for your BlackBerry. SI s world famous writing and photography get delivered directly to your device along with the latest scores of your favorite pro and college teams.
Features:
Easy and fast access to everything by Sports Illustrated s writers on SI.com, including Peter King s MMQB, Tom Verducci s Inside Baseball, Jon Heyman s Daily Scoop, Stewart Mandel s Inside College Football and Jon Wertheim s Inside Tennis.
Truth Rumors brings you the biggest news and buzz from every sport.
Enjoy the stunning photography that made SI famous with our SI Photos section, updated many times a day with fresh new galleries.
Get Breaking News before your friends and coworkers with our background delivery system that lights up your SI icon. When a big story breaks, you will be the first to know.
Latest news, scores and standings for your favorite leagues NFL, MLB, NBA, NHL, college hoops and college football as well as news and commentary on soccer, NASCAR, tennis, boxing, cycling, horse racing, olympics and cycling.
Share articles and galleries via email, Twitter or Delicious. You can even email the story to yourself for later viewing.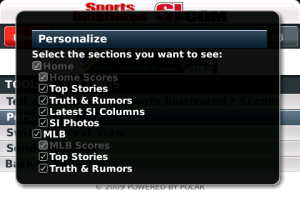 App Name:Sports Illustrated SI
App Version:3.0.5.30776
App Size:676 KB
Cost:FREE
Filed Under: Sports & Recreation Tags: Inside Baseball, Jon Heyman, SI, Sports Illustrated Previous Post: Nebraska Cornhuskers Gameday
Next Post: Texas Tech GameTracker Mobile