iTransitBuddy puts your Transit Schedules right in your pocket! Train Schedules for New York Metro Area Transit Agencies: LIRR, Metro North, NJT, and PATH!!!
Quick and easy to use! iTransitBuddy contains the latest train schedules for multiple Transit Agencies for your BlackBerry Storm, Bold, 8900 Curve or 83xx series Curve!!!
Whether youre a daily commuter or a weekend visitor iTransitBuddy is for you!
iTransitBuddy saves you time by allowing you to quickly find your next train, how much time you have until your the train leaves, as well as all trains leaving in the next 24 hours.
Dont buy multiple applications for schedules when iTransitBuddy has them all!
Long Island Rail Road LIRR
Metro North New York
New Jersey Transit Rail NJT
PATH Port Authority Trans Hudson
iTransitBuddy Features:
Point to Point information
Schedule Updates as necessary, Free!
Ability to add frequent routes as Favorites
SMS / Text Message your train information!!!
Cellular or WiFi Connection Required
Please contact the Support Team, support.bb@itransitbuddy.com, if you have any issues or questions. Support Team will respond within hours. We have a 100% success rate of resolving questions/issues
Customer Feedback:
Used your app again last night in NYC. I love the big red how many minutes until the train display. I was walking to Penn Station and checked while walking. In the old days Id have to look at the time, scroll through to find the closest time and try to calculate if I should rush or not.
iTransitBuddy works great!!! It is a fantastic application and completely invaluable to me.
I just purchased Transit Buddy from the App store and think its great!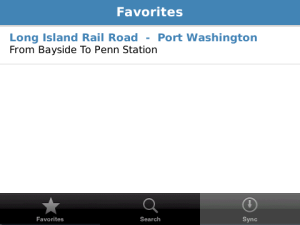 App Name:iTransitBuddy – New York
App Version:1.1.1
App Size:80 KB
Cost:US$0.99 USD
Filed Under: Travel and Weather Tags: Penn Station, Schedule Updates, Support Team, Transit Agencies Previous Post: London City Travel Guide – GuidePal
Next Post: Belgian Trains