The best solution for locking various things. EveryLock locks your applications, keyboard/screen, emails, folders, files, SMS and MMS.
1.THERE IS NO ICON FOR EVERYLOCK
2. LOOK AT THE FIRST SCREENSHOT.
Features
THEMES
Three builtin password lock themes
2 builtin screen lock themes touch
Download more themes with wifi on
Hides from Switch Application
Entry Method into EveryLock
BlackBerry Menu Item
A hidden key
Locks Single Emails or Emails by Contact
Password protect viewing and sending
Protect your SMS and MMS
Password protect sending
Password protect SMS app
Locks native and thirdparty apps
Automatically produces a clean list of native and thirdparty applications look at screenshots.
Locks BlackBerry Messenger ,MSN,Yahoo,Facebook etc
Lock All /Unlock All Key
Option to lock universal search
Locks whole folders or individual files
Hides and Compresses the files making them unviewable
A builtin file explorer is included that allows you to view
the locked files within the application without having to unlock the file.
i. Can view audio,video,pictures and other types of files
Not compatible with files that have an .rem extension
100% Safe and DOES NOT DELETE FILESContact me if you think so
DOES NOT CORRUPT THE SDCARD OR MEMORY
Has a builtin screen/keyboard locker
Lock/Unlock when:
1.Usb IN/OUT
2.Backlight ON/OFF
3. Slider OPEN/CLOSED
4. Flip OPEN/CLOSED
5. Holster IN/OUT
6. Time
7.Startup
Ask for password
AntiUninstall protection
The only locking application that cant be uninstalled through normal means, once you enable the option under Settings/General
Optimized battery usage
FAQ
Q. I cant find EveryLock, where is it?
A. There is no icon for EveryLock.When you press your BlackBerry Menu key and the menu appears at the lower left which has other menu items such as Switch Application or Open Tray, do you see Open EveryLock?
Q. I cant lock my SMS
A. You must lock your Messages application.
Q. Why does the contents of a locked application show some times for a brienf moment?
A. Its impossible to fix this issue.
Q. Why cant EveryLock lock certain things ?
A. There are some theme related thingsnotification bar about OS 5 and OS 6 that are impossible to lock. Contact me for more details
Q. I keep getting an error java.lang.nullpointer
A. Please contact me so I can explain.
Q. EveryLock is freezing my phone
A. Contact me so I can help you correctly setup EveryLock. It does not freeze your phone.
Q. Is it possible for EveryLock to delete a file,folder or corrupt anything on my phone?
A. No
FAQ
Usually, all problems with EveryLock are USER ERROR.
If you find any problems or need support, contact me at the support email.
Youll receive a reply within 10 mins to 24 hours. Please check your SPAM folder.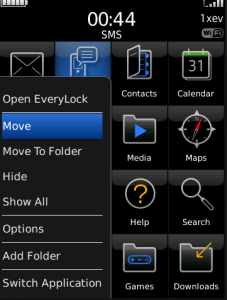 App Name:EveryLock – Password Protect Apps File Photo Folder Facebook BBM
App Version:1.8.7.4
App Size:419 KB
Cost:US$1.99 USD
Filed Under: Utilities Apps Tags: MMS, OS, SMS, Switch Application Previous Post: Flash Light Free
Next Post: Unit Converter