Find and book taxis with iCabbi. Initially launching in Dublin and Cork Ireland and going nationwide in the coming months, iCabbi is Irelands first virtual dispatch company and allows users to find book the closest taxi to their location on their mobile phone at the touch of a button without speaking to anyone.
This is a new service, our infrastructure is growing by the day so if there are no iCabbis available, please be patient with us and try again another time. Our goal is to be Irelands first National Taxi Service go anywhere in the country, push a button and an iCabbi will come to your phone!
Features:
One touch/click booking
Safe Secure get the details of the driver who is collecting you directly to your phone prior to pick up
Efficient Get the nearest available taxi to your location
Fully automated No need to speak to anyone or to call directory enquiries for a number
Watch your taxis progress on a map on your phone
No charge an iCabbi costs the same as a taxi from a traditional dispatch company
Traceability all details of every journey will be emailed to up to two email addresses of your choosing
Trace lost items you will always know what taxi you got home know and have the drivers phone number
Very useful for those with hearing or speech difficulties
Interlinked to iCabbi.com book an iCabbi from your desktop, app or mobile website and enjoy the same functionality/features on all in real time
Coming Soon:
Scheduled Bookings
Account payments no need for cash or credit card to pay at the end of your journey simply register a card with us and you can pay over your phone with both driver and customer getting payment confirmations!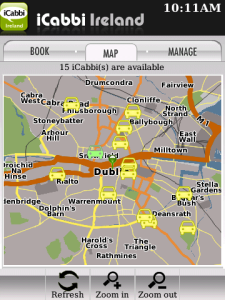 App Name:iCabbi Ireland
App Version:1.0.0
App Size:751 KB
Cost:FREE
Filed Under: Utilities Apps Tags: Dublin, Features One, National Taxi Service, Safe Secure Previous Post: Call You Back
Next Post: MxCalc 15c – RPN Scientific Calculator