FB Lock is a password protection feature for your BlackBerry Facebook app. With FB Lock, you can lock your Facebook app with your own password and also prevent your friends, family members, coworkers or any people from getting into the Facebook app in your BlackBerry without your permission.
Password protect your Facebook app.
Easy configuration.
Fast Mode switch Enabled or Disable.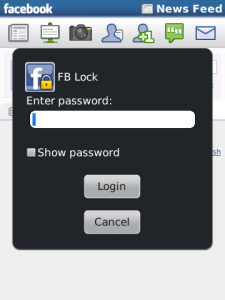 App Name:Lock for Facebook – Password protect your Facebook app
App Version:1.6.0
App Size:98 KB
Cost:US$0.99 USD
Filed Under: Utilities Apps Tags: App Name Lock, Fast Mode Previous Post: Kid Math Training Program
Next Post: MEMORY METER ICON