Discover the many new features of Windows 7 and get up to speed quickly with this straight forward guide, full of practical stepbystep visual instructions.
Reveal the secrets of Windows 7 and impress your friends and coworkers with timesaving techniques that help you work smarter not harder.
Full color screen shots help you learn visually and quickly become productive in Windows 7.
Dont waste time reading a 400page textbook full of technobabble; get the fast facts with this handy reference guide, written in plain English.
About the Author:
Tim Sievers is a Certified Microsoft Apple support professional. Tim has been using computers since the 1980s and providing professional technical support since the mid 1990s.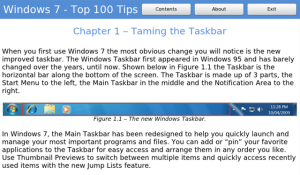 App Name:Windows 7 – Top 100 Tips
App Version:1.0.0
App Size:17980 KB
Cost:US$0.99 USD
Filed Under: Utilities Apps Tags: App Name Windows Previous Post: SBA Quick Calculator
Next Post: slydial – Voice Messaging