$1.99 Special sale for the 4th of Jul
The baby bear with the perfect costume for the 4th of July. To Be Uncle Sam and ready to join the parade.
Features:
1. Hidden Dock with 6 Icons.
2. Hand draw icon tea icons Set.
3. Background images on all screens.
4. Color scheme to fit menu colors, highlights, profile popup Fonts.
5. BYME – Quick link for more and Free stuff.
If you have questions or need tech support
Please contact
bbthemebyme@gmail.com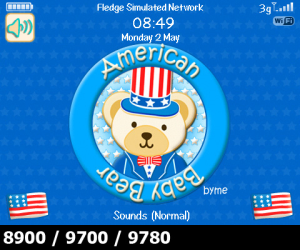 App Name:Baby Bear USA
App Version:3.0.0
App Size:576 KB
Cost:US$1.99 USD
Filed Under: Themes Tags: Hidden Dock Previous Post: Come Together – Live Motion Wallpaper
Next Post: Evil Snake PREMIUM Theme