Please Read Description before downloading:
The Blue Stars theme will turn your device into a funky star experience, cool bouncy icons and matching
funky stars backgrounds!
Built for 8520/8530 BlackBerry devices OS 5 Software 5
Will not work on OS6 Software 6 devices
Please note that some of these devices could have some versions that are not compatible so downloading is at own risk. To see if your device is compatible please look under options/about to see built and OS specifications.
When download does not open for installation, please check under your app world MY WORLD or under options/themes on your device for installation of theme. If it does not appear, the theme is most likely not compatible with your device. You can also try resetting your device for theme to appear.
Please make sure your internet connection is working and that you have enough MB on your device for the download Also make sure your App World is always updated.
The Fee for this theme is a once off fee.
L.A THEME QUEEN WILL NOT BE HELD RESPONSIBLE FOR ANY THEME THAT DOES NOT WORK,
PLEASE CHECK PHONE SPECIFICATIONS & COMPATIBILITY BEFORE PURCHASE AS
NO REFUNDS WILL BE GIVEN.
BY DOWNLOADING THIS THEME YOU HAVE ACCEPTED THE ABOVE TERMS AND CONDITIONS.
This theme has been tested and accepted by BlackBerry and works 100%
Please leave a Rating and Comment if you like the theme.
ENJOY!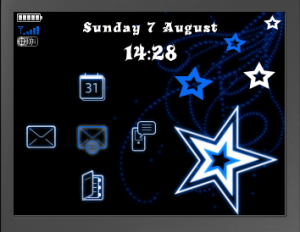 App Name:Blue Stars Theme
App Version:1.0.0
App Size:600 KB
Cost:US$1.99 USD
Filed Under: Themes Tags: App World, Blue Stars Theme, MB, OS Previous Post: Aqua Splash Theme with Fabulous White Outline Icons
Next Post: Touch Me Twice