Check out our screenshots – it really looks like youve splashed water on your BlackBerry!
A fantastic theme, comes with our custom blue icons.
Please note, will need to reboot your phone after installation to ensure the icons load properly. This is easy to do… simply remove the battery from your BlackBerry and put it back in again.
The safest way to have water on your BlackBerry!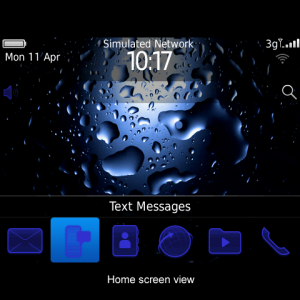 App Name:Blue Water Splash Theme – Water on your home screen with blue icons
App Version:1.0.0
App Size:226 KB
Cost:US$1.99 USD
Filed Under: Themes Previous Post: Tennessee Volunteers College Theme
Next Post: SMiling Flowers Theme With Wonderful Green Aspect Icons