The name says it all!
. If you like Guitar then this theme is for you.
. All the screens will have guitar on fire! This theme depicts that guitar can catch fire if you go on strumming it really hard.
. Ever wondered how guitar would look when set on fire? well this theme is the perfect example.
. This is our first of the many crazy themes we set out to do it for you. all suggestions are welcome.
. Set your device on fire using this arty theme!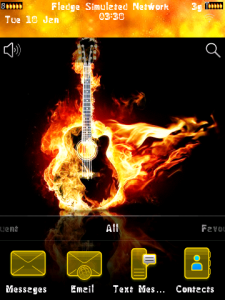 App Name:Guitar On Fire
App Version:1.0.0
App Size:1635 KB
Cost:US$1.99 USD
Filed Under: Themes Previous Post: Aqua Bubble Theme with Brilliant Blue Icons
Next Post: Hero THEME VALUE PACK