Animated American Flag
theme will include a animated background of American Flag, Flag animated on when button is in focus, custom menus/popups, and icons in one downloadable package.
Theme display may vary based on your handset capabilities.
To apply theme after successful download and installation:
Navigate to Options – Theme – select newly downloaded theme to apply
Please leave a review on BlackBerry App World – with your review we can continue to serve up great new themes. Lets make BlackBerry fun!
Got a great idea for a theme? Please let us know! – info@b-2-studio.com
PLEASE TAKE A FEW MINUTES TO READ INSTRUCTIONS BELOW.
***OS 5 and above only!****
Please check you have the required Operating System. Support for OS 5 + only application screen – select option – about.
Due to possible connection errors with mobile providers we recommend using Wi-Fi when available.
INSTALL
1. Options spanner looking Icon from the Applications screen.
2. From the Options menu, scroll down to Theme and select it.
3. Highlight a different theme, and click it.
4. Return to the Options menu.
5. Exit out of it. Now youre using a different theme.
IMPORTANT
For optimal performance please remove battery after b-2-studio Theme install.
Please contact Support to file a technical Issue.
Any information you provide will help us deliver a better service and more free themes.
You will be contacted as soon as a new version update is available.
Follow us : http://b-2-studio.com/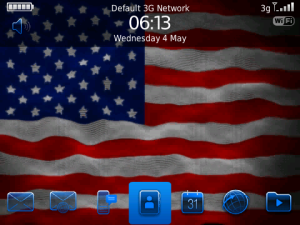 App Name:Hello-USA
App Version:2.0.0
App Size:3052 KB
Cost:US$3.99 USD
Filed Under: Themes Tags: American Flag, INSTALL, Operating System, OS Previous Post: Gears Animated with Tone
Next Post: Vortex Theme