Been waiting for the release of OS6 for your BlackBerry Bold, Storm, Pearl, Curve or Tour? Would you love to have the look and feel of OS6 on your handset? Well, now you can!
This theme only works on OS5. OS6 will be widely available in a couple of months, up until then networks are slowly moving over one at a time. If youre still on OS5 and as long as you are up to date with your phone software, this theme will work perfectly. It wil give you the look and feel of OS6 by updating all the icons.
Check out our reviews to see our customer comments.
We also have a double row version available that gives you two rows of application icons on your home screen for the Bold, Tour and Curve 8900 – click on MyBlackBerryThemes above in BlackBerry App World to view all our themes.
You still have all the functionality of your phone but with the added benefit of having OS6 style application icons.
We hope you love this theme!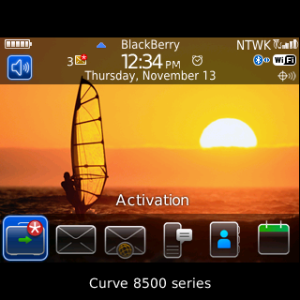 App Name:OS6 Style Theme – OS6 icons using your OS5 phone for BlackBerry
App Version:3.0.0
App Size:614 KB
Cost:US$1.99 USD
Filed Under: Themes Previous Post: Tiger Green
Next Post: Docetera