Here you have a very gorgeous theme from C86themes! Been working on this for some time to get it just right! You got awesome HD style icons, with a couple custom ones thrown in the mix. Completely custom banner along with customer everything else! i cant think of a single thing that has not be changed for modified in some way.
Now the good thing with this theme is you keep your standard navigation of BlackBerry 6. None of this needing to hit the BlackBerry button to get to an application screen. You keep the feel and fluidity of BlackBerry 6 while using a completely custom theme!
Go ahead! Look at the screen shots!
What are you waiting for! Pick it up now!
THEME IS ONLY FOR BLACKBERRY OS 6.0+
WILL NOT WORK ON OS5!!!!
*Screenshots may not show the exact wallpaper included with the actual theme*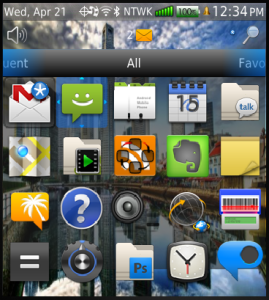 App Name:Shadow D6 9100
App Version:1.4.6
App Size:638 KB
Cost:US$2.99 USD
Filed Under: Themes Tags: HD Previous Post: Lighty Green theme
Next Post: Love Kills