NO OS 6.0 SUPPORT YET
This theme can definitely blossom your BlackBerry.
One of the highest quality floral themes.
Flowers as the focus.
Customized pink icon set.
An abstract battery meter & signal meter.
Works even in 9100.
Features:
Works even in 9100.
Customized icons, font, battery & signal meters.
High quality screenwise backgrounds & attractive icons.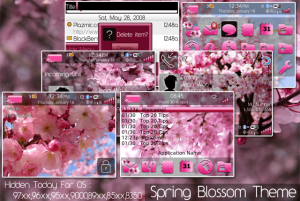 App Name:Spring Blossoms Theme
App Version:1.1.0
App Size:2060 KB
Cost:US$2.99 USD
Filed Under: Themes Tags: Features Works Previous Post: Thirty Six Views of Mount Fuji
Next Post: Mini Book Theme