True Love Rockabilly Animated theme. Get Retro with this super cool True Love theme! Perfect for all those fifties guys and gals, hip baby, hip!
Add some love to your BlackBerry!
Features:
* Professional Front Screen Animation
* Custom color scheme on menus
* New front screen navigation
* Professionally designed
* All screens customized
Blackberry Storm owners – Please note:
To slide the hidden dock back to hidden position please touch the speaker icon in the top right of the screen.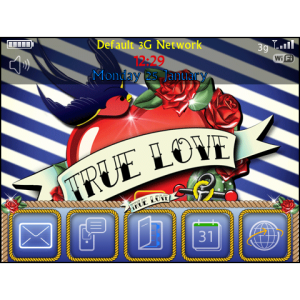 App Name:True Love Animated Theme
App Version:2010.1.24.1531
App Size:601 KB
Cost:US$1.99 USD
Filed Under: Themes Tags: Blackberry Storm, True Love Previous Post: Evil Joker Theme
Next Post: Hero HTC Sense UI Official