JUST LAUNCHED. BE ONE OF THE FIRST TO TASTE IT!
Ninja Shooter – Let the Fun Begin!
If you like Pandas vs Ninjas, youll love this Game! Prepare for hours of fun with this creative twist on the classic game Bubble Shooter! The feud between Pandas and Ninjas is very old. So old in fact, that no one remembers when it started. We do however remember whats more sacred… The Panda. And that just means one thing, those sneaky and violent Ninjas NEED to go! With your help, we can get rid of the nasty Ninjas, preserve our lovely peace-loving Pandas, and protect their freedom!
MATCH THREE OR MORE NINJAS OF THE SAME COLOR TO REMOVE THEM FROM THE FIELD, EARNING POINTS FOR EACH REMOVED NINJA. PANDAS WILL TURN TO NINJA OF ANY COLOR AND CAN HELP YOU TO WIN THE GAME! GOOD LUCK AND LET THE FUN BEGIN!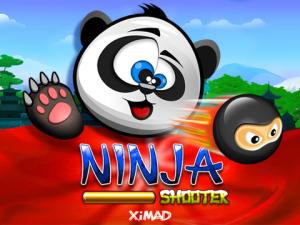 App Name:Ninja Shooter
App Version:1.0.0
App Size:1909 KB
Cost:US$0.99 USD
Filed Under: Arcade Game Previous Post: Space Jewels
Next Post: Circle Flow