Welcome to the official Alejandro Sanz application for BlackBerry. This App is the essential interactive element to keep in touch with the Alejandro Sanz universe.
You can listen to complete songs, watch videos, see the dates of the upcoming concerts, pictures, news and more. Through this App, fans can connect with each other and share their comments on Alejandro Sanz and his paradise.
Note this App is only available in Spanish.
Visualizar en streaming videos completos
Fotos de todo tipo
Links a la tienda oficial y a sus websites
Muro para Fans, donde se pueden comentar audios, videos y fotos
Integración con los canales Facebook y Twitter de Alejandro
Integración con la lista oficial de Mail de Alejandro Sanz.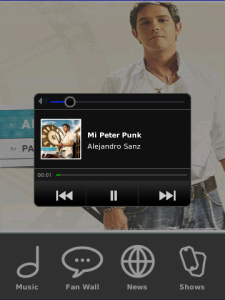 App Name:Alejandro Sanz
App Version:0.1.2
App Size:1188 KB
Cost:US$1.99 USD
Filed Under: Audio & Music Tags: Alejandro Integraci, Alejandro Sanz Previous Post: 96_3 KLLL
Next Post: Charleston County South Carolina Sheriff and Fire Scanner