Pop Culture Trivia 2 contains 750 new questions about the most popular entertainment today! Questions include TV, music, movies, Hollywood, sports and current events through 2011.
OS 7.0 is not optimized for MobileQs. The Game will work, however it will not take up the entire size of the screen and may be hard to view.
Visit MobileQs . com for expansion packs, support or more information. Click on FanWide LLC above to see the other MobileQs games. MobileQs is a topselling BlackBerry game and the 1 BlackBerry trivia game since 2010!
Expansion Pack Highlights:
750 questions written in 2010
Installs in seconds with 1click
Dozens of difficultly levels
3 different types of Hints: eliminate answers, poll the people replace a question
High Scores Top 10
Online instructions help
All questions are in English and written by the MobileQs team
Important: You need the MobileQs trivia game to play this expansion pack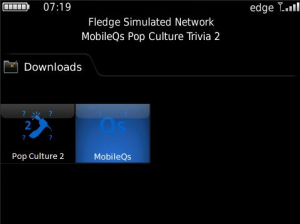 App Name:Pop Culture Trivia 2 – MobileQs Expansion Pack – 750 New Questions
App Version:1.0.0
App Size:111 KB
Cost:US$0.99 USD
Filed Under: Audio & Music Tags: High Scores Top, OS, Pop Culture Trivia, TV Previous Post: Rock105_5 Carolinas Pure Rock
Next Post: WAVA-AM 780