Brix Premier is a sophisticated and all-in-one business application for professionals and traders in the beverage, juice/puree, and supplement nutrition industries. With the complex calculation formula integrated and embedded behind the scene, Brix Premier is Simple, Straightforward and Easy to use for the professionals, which enhance the business operations efficiency, accuracy and quality.
Brix Premier dynamically and automatically makes several simultaneous Brix or Cost calculations based on simple inputs, and then presents the multiple results at once, which dramatically reduces the unnecessary human errors.
Brix Premier provides two major functions: Dilution Calculation and Cost Calculation.
The users of Brix Premier will periodically get the version updates with increased fruit list and refined functionality based on the evolving industry needs and information.
MAIN FEATURES INCLUDE:
Brix based calculation: for easier dilution & concentration calculation with multiple results
Cost Calculation: for traders or business to make sound purchase or sale decisions based on the instant information from simple inputs of Brix values, unit price and desired quantity.
Harvest Season Map: helps professionals or traders plan in advance for procurement of desired fruit types
Unit Conversion: simply switch between U.S. and Metric unit views, and results will be automatically calculated.
Multiple Unit Levels: conveniently present all the necessary unit levels U.S. or Metric at once for your international business transactions or decisions: Pound, Gallon, Liter, Kilogram, Ton metric.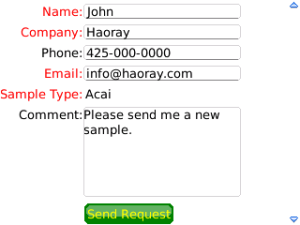 App Name:Brix Premier
App Version:1.2.0
App Size:91 KB
Cost:US$14.99 USD
Filed Under: Business Apps Tags: Brix Premier, Cost Calculation, Harvest Season Map, Multiple Unit Levels Previous Post: Real Estate Back Of the Envelope
Next Post: HeadFirst