Canada Post Mobile App gives you access to some of the the most popular tools on canadapost.ca. You can now Find a Postal Code, create your own personalized stamps and postcards with Picture Postage, Track a Package and Find a Post Office anywhere in Canada.
Now introducing Picture Postage Postcard!
Turn your photos into printed postcardswith delivery anywhere in the world for just $2.45 per card! Take a photo or select one from your camera roll, choose the recipients from your contacts list and write your personal message. Well print, stamp and mail the postcard to each person on your list!
Use Picture Postage to create a personalized stamp for your letters and invitations. Get started by taking a picture with your device, or access any photos that you have stored on your camera roll!
Use Find a Postal code for any address in Canada.
Use Track a Package to track and check the status of your items. You can give the item a name and save it in the app e.g., Moms package, so you can easily keep track of it until it is delivered.
Use Find a Post Office to locate the nearest Canada Post retail outlets, based on your GPS coordinates or an address that you enter.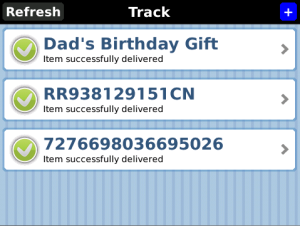 App Name:Canada Post Corporation
App Version:3.2.0
App Size:3786 KB
Cost:FREE
Filed Under: Business Apps Tags: Canada, Canada Post, Picture Postage, Use Picture Postage Previous Post: Network Unlock – free your phone!
Next Post: Switchvox Mobile