Instantly look up thousands of investment and financial services terms, definitions and financial formulas. This free Financial Glossary is the latest addition to CSIs comprehensive suite of courses and programs available to financial services professionals in Canada and around the world.
- Carry more than 4400 common terms and detailed definitions, everywhere you go.
- Reference over 60 financial formulas.
- Search the index to locate specific terms in seconds, without a network connection. Note: This convenient feature requires users to have an SD card. The app will not load without an SD card.
- Capture and store notes quickly on each term.
- Bookmark key terms for fast access
- Suggest terms and/or definitions to the CSI editors to include in future app updates
- Rate terms.
- Revisit recently viewed terms
- Navigate to the web to learn more about CSIs training and reference resources online
CSI is Canadas premier provider of professional qualifications and compliance solutions for the financial services industry. We have helped over 700,000 financial professionals reach their career goals. CSI offers over 170 courses and credentials ranging from the well-known Canadian Securities Course to the Personal Financial Planner PFP and Chartered Strategic Wealth Professional CSWP designations. Valued for its expertise in Canada, CSI also partners with organizations worldwide to provide financial services consulting and training projects in Asia, Europe, the Middle East and the Caribbean. CSI operates as a separate company within Moodys Analytics professional services unit. CSI is endorsed by the Investment Industry Regulatory Organization of Canada IIROC, Canadas stock exchanges and Canadas securities regulatory commissions.
For more information, please visit www.csi.ca.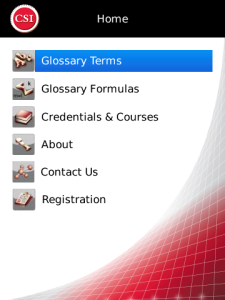 App Name:Financial Glossary by CSI Global Education Inc.
App Version:1.0.0
App Size:4875 KB
Cost:FREE
Filed Under: Business Apps Tags: Canada, CSI, Financial Glossary, SD Previous Post: HTML5 Reference
Next Post: Mind Is a Myth part2 ebook