This unique online trading platform will provide you with:
Mobile phone and accessory trading contacts
Advertising on the industry noticeboard
Detailed market statistics with price history for each phone model
Market monitoring and advice for safe trading
News and updates to stay ahead of the market
Bring the power of the most trusted online platform for mobile phone wholesalers and traders to your BlackBerry.
More than 50000 companies around the world, involved in mobile phone distribution and trade have applied for membership onto the gsmExchange.com platform.
Established in 1999, gsmExchange.com is based in Dublin, Ireland. Its online trading platform has a membership base representing 187 countries; these include Network Operators, Manufacturers, Distributors and Wholesalers. The management team have decades of experience in the international telecoms arena.
If you are already a member with gsmExchange.com, please install this App, and use your usual user-id and password to access gsmExchange.com on the go – most of the features that you have come to love on the web, will be available on your BlackBerry; including, "Browsing", "Posting Offers and Requests", "Matches", "My contacts", and the "In Box"
If you are new to gsmExchange.com, you can freely download onto your device, and register to become a member directly from your BlackBerry.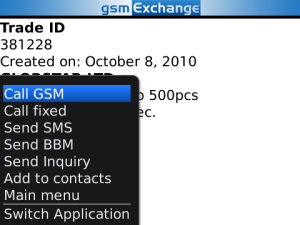 App Name:gsmExchange.com
App Version:2.0.0
App Size:198 KB
Cost:FREE
Filed Under: Business Apps Tags: App Name, Dublin, Ireland, Network Operators Previous Post: You Have No Idea
Next Post: Quick Reference for IBM System z