***This application is demo for demonstration purposes only***
If you are looking for a fast, easy to install and easy to use mobile CRM solution that was designed specifically for SugarCRM on the BlackBerry, take a look at this new solution.
* Works on all versions of SugarCRM from Community Edition Open Source to Professional and Enterprise.
* Manage thousands of contacts using beautiful and easy to use UI
* Instantly access and update CRM contact details
* Send email using native email client and automatically save it on the CRM
* Access CRM contacts in native applications seamlessly: email, calendar, and address book
* Synchronization and automatic updates for the SugarCRM information
* Designed to be fast
* Works with or without BES servers
* Offline access to all your contact information
Please note that this application is for demonstration purposes only and some features such as the automatic synchronization are disabled. Please contact mobilecrm@performanceadvantage.ca for a full version.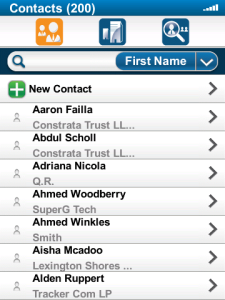 App Name:Mobile CRM for SugarCRM DEMO
App Version:1.4.0
App Size:691 KB
Cost:FREE
Filed Under: Business Apps Tags: BES, CRM Previous Post: LOANS
Next Post: StakeholdersASSIST