Want an easy way to keep fresh on your Process Communication Model concepts and skills? Then Pocket PCM is a great tool for you. Inside this app you can find definitions, examples, and tips for dealing more effectively with different personality types.
Pocket PCM was designed by a team of PCM trainers to help reinforce learning from PCM seminars, expose new learners to the powerful potential of this model, and offer PCM trainers a new way to extend the value of their work.
Maybe youve attended a PCM seminar and are excited to put the concepts to work in your life. Yet sometimes you want a reminder of what to look for when youre applying the new tools in real-life situations. You have these at your fingertips with Pocket PCM.
Perhaps youre struggling to communicate with someone important in your life – a spouse, co-worker or boss. Its not that you arent trying, just that you cant seem to get through a conversation without some sort of conflict or drama. Youre drained and looking for a solution. Refresh your PCM skills with Pocket PCM.
Pocket PCM can help with each of these scenarios and many more. PCM is a comprehensive model for communicating more effectively with diverse personality types. Pocket PCM puts all the concepts in this handy reference application.
Got questions that you dont see addressed in the app? No problem, Pocket PCM has you covered. You can quickly sync with an interactive website that lets you submit questions, access to resources and information, and connect with other PCM users.
If youve already been through a Process Communication Model seminar, Pocket PCM is the next step to help you review, master and apply the techniques you learned with this convenient resource aide.
Have a look at some of the Pocket PCM Features:
* Easy to use, handy reference of all PCM concepts
* Helps you use PCM to interpret behavior and increase appreciation for diversity
* Aids in indentifying psychological motivators
* Pop-up definitions offer quick glimpses to personality types
* Comparisons across personality types
* Quick links to discussion groups, Q & A, resources
* Identifies self-sabotaging behavior along with tips for improvement
* Reminders of how to reduce conflict with different personalities
* Great tool for practicing skills learned in a PCM training seminar
* Helps you find a PCM trainer near you
* Brought to you by a certified PCM training and advising company
Give yourself an edge. Download Pocket PCM now and keep the learning alive!
The Process Communication Model© is a language-based personality and communication model, complete with a powerful set of practical tools to connect, motivate and resolve conflict with diverse personality types.
PCM training helps you decode body language, craft precise motivational strategies, and respond more effectively to negative attention behavior in yourself or others. Knowing the personality type youre dealing with and better ways to handle a situation can increase productivity and energy in your relationships.
Business and government agencies worldwide use the Process Communication Model, why not you? If you are intrigued by the concept, contact the developer for more information on learning PCM.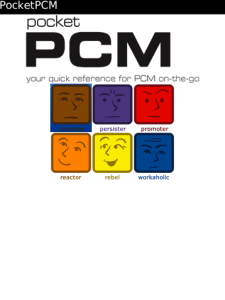 App Name:PocketPCM
App Version:1.0.0
App Size:160 KB
Cost:US$14.99 USD
Filed Under: Business Apps Tags: PCM, Process Communication Model Previous Post: KISTime
Next Post: Lexus of Queens DealerApp