Transform your decision making with real time, cloud based business intelligence from rekoop. The rekoop for BlackBerry PlayBook application is part of our managed service and once integrated to your existing business systems is sold on a monthly subscription basis. The rekoop for BlackBerry PlayBook Business Intelligence application shows key performance indicators within a business and each module in the application is defined based on the specific business requirements. The modules can be configured differently following an enterprise integration project. Once your key business systems have been integrated with the rekoop cloud, users will receive the login credentials and be able to use this application.
rekoop features:
Instant access to key performance indicators
Completely secure and fully integrated with existing systems
Incredibly engaging and dynamic experience
Compelling content to business users
Dont rely on finance or IT, the data is in your hand
Fully embraces the power of the BlackBerry PlayBook tablet
To book your integration project with rekoop or find out more, please refer to www.rekoop.com or email sales@rekoop.com .
Please Note: This application does not work without an enterprise login which will be given out after the integration.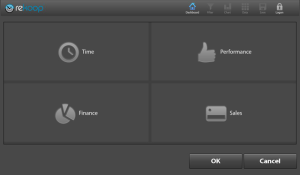 App Name:Rekoop
App Version:1.0.4
App Size:1299 KB
Cost:FREE
Filed Under: Business Apps Tags: IT Previous Post: Quick Reference for IBM System z
Next Post: McGrath Lexus of Chicago DealerApp