Use the St. Louis Business Journal News Reader application on your BlackBerry for mobile access to up-to-the minute business news and analysis.
Our team of local business news reporters use their deep understanding of the St. Louis community to keep you informed about the people and businesses important to you.
Download it today for free!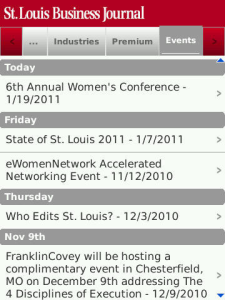 App Name:St.Louis Business Journal
App Version:3.1.4
App Size:576 KB
Cost:FREE
Filed Under: Business Apps Tags: App Name St Previous Post: 12 Elements of Great Managing
Next Post: Finlay Brewer