StakeholdersASSIST is a stakeholders analysis and management tool for project managers, program managers, and entrepreneurs. StakeholdersASSIST is based on a stakeholders model developed by Venturcon that rates individuals based on their Influence level as a function of their Power and Distance, their Buy-In level as a function of their Support and Commitment, and their Overall Risk level as a function of the above two factors.
StakeholdersASSIST allows you to easily manage stakeholders for multiple projects*. A project summary view plots the distribution of the projects stakeholders in terms of their Influence, Buy-In, and Overall Risk. Selecting any stakeholder allows you to view and manage the individuals ratings.
StakeholdersASSIST also contains reference materials to explain the Venturcon stakeholders model, as well as file export function* to output stakeholders reports in .txt and .csv formats.
Venturcon is a Toronto, Ontario, Canada based consultancy focused on business planning, proposal preparation, and risk management for small/medium businesses. StakeholdersASSIST is developed based on the years of project and risk management experience of Venturcons consultants.
* The trials version of StakeholdersASSIST is limited to one project and six stakeholders. The full version allows unlimited projects and stakeholders, and enables file export function.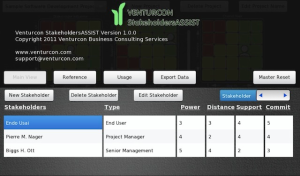 App Name:StakeholdersASSIST
App Version:1.2.4
App Size:695 KB
Cost:US$0.99 USD
Filed Under: Business Apps Tags: Canada, Overall Risk Previous Post: Mobile CRM for SugarCRM DEMO
Next Post: Tidy Oldham