Timecard LBS at $12.99 USD* per device is an easy to use mobile GPS tracking and timesheet solution that works from a wireless device. Management is able to view mobile workers Time sheet information, work status and GPS locations from ECONZs web-based software. Timecard can collect mobile workers hours logging in and out, as well as task, cost codes and additional details associated with those jobs. The solution also includes Team Clock-in and custom fields at no additional cost and can integrate into over 100 payroll and accounting systems**. *One time $15.00 US set-up required per device; ** Setup, build and monthly fees may apply for integration. ***Visit timecard.econz.com for more information.
Advantages of using Timecard solution:
* Increase Worker productivity
* Decrease Time-Theft by Employees
* Increase Profits by saving on everyday costs Fuel, Administration, Overtime, etc…
* Manage Workforce more efficiently
* Streamline Time and Attendance into preferred Accounting and Payroll Systems
* Know the location of your mobile works and equipment throughout the day
About Econz Wireless Est. 1971
Econz Wireless is a leader in Mobile Data Collection, providing employer solutions for Time & Attendance, Employee Tracking and Wage-Hour Compliance Laws. ECONZs Timecard Solution captures: Time, Attendance, Cost Codes, Job tasks, Breaks, and GPS Tracking information from a field workers handheld device. Supervisors can clock in/out multiple team members on a single device at the same low cost per device. Timecard integrates into over 100 accounting and payroll packages allowing a company to streamline their time and attendance needs. Visit the company website at www.timecard.econz.com or call 866.403.3475 and ask about our 30 day money back guarantee.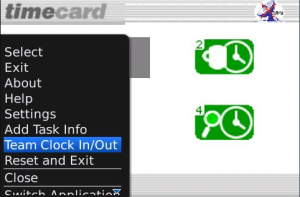 App Name:Timecard South America
App Version:3.0.0
App Size:941 KB
Cost:FREE
Filed Under: Business Apps Tags: Econz Wireless, GPS, Increase Worker, Manage Workforce Previous Post: Business Upgrade
Next Post: REALTOR.ca