Unvired Projects for Basecamp brings the full power of Basecamp to your BlackBerry. Basecamp is one of the best cloud based Project Management applications available at http://basecamphq.com Link to as many accounts as you have, access all project information, Milestones, ToDo lists, ToDo items and Time entries. Seamless offline viewing and data refresh, work even without internet connectivity and sync automatically whenever connectivity is detected. Fantastic UI with easily accessible dashboards and information at a button click.
Requirements:
Requires an SD card for the database. You will also require an account with Basecamp at http://basecamphq.com
Free vs Pro Paid:
1. All features listed below and planned features are available in the paid version.
2. The free version allows you to add one account and download one project to work with. Time entries are not supported in the free version. Also files upload/download is not supported, only file listing is available.
3. Free version comes with a license for 1 year which can be renewed later.
4. The free version is supported via Ads from the BlackBerry Ad Network.
Features & Functionality:
- Dashboard: Get an immediate overview of all the recent activity in your projects and view details
- My Todos: First thing in the day check all the todos for yourself in one view
- Projects: List and add add new projects directly from the BlackBerry, choose to not download archived projects
- Milestones: List and add milestones
- Todo Lists: List and add todo lists. Choose to download completed todo lists too
- Todo Items: View, complete, add and comment on todo items. Choose to download completed todo items too
- Messages: View all messages
- Time Entries: Time track projects and todo items if time tracking is enabled in your basecamp account
- Comments: View and add comments on messages, milestones and todo items
- Files: List, Download and upload files to Basecamp
- Intelligent Refresh: Auto refresh of data and background sending of data letting you work offline
- User Interface: Great looking user interface, optimized for touch and non-touch devices
For detailed feature list visit: http://unvired.com/product/unvired-projects/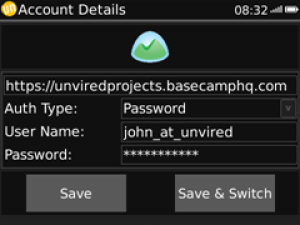 App Name:Unvired Projects for Basecamp – Free
App Version:2.0.2
App Size:1119 KB
Cost:FREE
Filed Under: Business Apps Tags: Comments View, Files List, Messages View, Time Entries Time Previous Post: Ottawa Real Estate
Next Post: David Weekley Homes