ASL is said to be the fourth most commonly used language in the United States of America.
ASL Lite for the BlackBerry PlayBook is a simple way to introduce and learn American Sign Language.
See how letters and numbers are symbolically represented with just a touch.
Look for more interactive features to be added in the future that will advance the learning of ASL.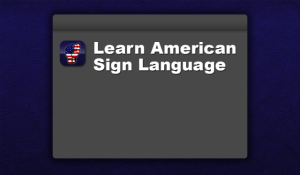 App Name:ASL Lite
App Version:1.0.3
App Size:1574 KB
Cost:FREE
Filed Under: Education Apps Tags: American Sign Language, ASL, United States Previous Post: JupiterAlmanac
Next Post: I want to be a Pirate