This program It is intended for plotting functions of various kinds.
GraphPlotter provides a demonstration of communication formulas and graphics functions.
For pupils to use GraphPlotter facilitates the study of graphs of functions, provides visibility
and ease of use. For teachers GraphPlotter can serve as a good tool
to prepare for classes, to create visual aids, etc.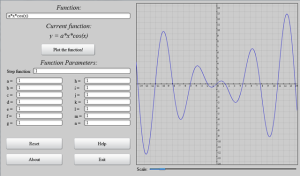 App Name:GraphPlotter
App Version:3.0.0
App Size:746 KB
Cost:FREE
Filed Under: Education Apps Previous Post: Kids Song Machine for BlackBerry PlayBook
Next Post: iSouthernMS