Huron University College wants you to be in in the know. HURON App is a fee app available to download and
install.
HURON App allows you to receive the student union information or news that you want, when you want it.
By setting your preferences, you are filtering the type of information delivered to you.
Instead of receiving everything that is published, receive only those feeds that you subscribe to.
You open the application and set your user preferences; thereby subscribing to the channels or news feeds that relate to your indicated areas of interest.
Benefits
There are significant benefits to the HURON App.
From a users standpoint, you are able to download a free application that allows you to receive instantaneous notifications on the areas that you designate in their preferences. The subscription to different channels is
extremely easy and you can subscribe or unsubscribe at any time. Furthermore, critical information is
received within minutes of being published. You do not have to remember to find a computer to login to your email server to retrieve your important messages.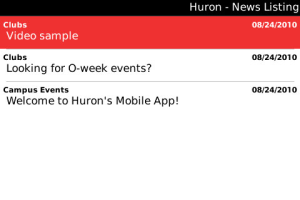 App Name:Huron University College
App Version:1.5.0
App Size:735 KB
Cost:FREE
Filed Under: Education Apps Tags: Huron University College Previous Post: Fridge Magnets
Next Post: Real Time Currency Converter