Over 500 flashcards covering need-to-know GRE vocabulary words. Kaplans GRE Exam Vocabulary is designed to help you to quickly learn the words that will help you succeed on the verbal section of the GRE. With this application you can study and test your knowledge on the go. Kaplans GRE Exam Vocabulary Flashcards includes:
- definitions
- phonetic pronunciations
- parts of speech
- sample sentences that provide words in context
- synonyms
The GRE Vocabulary application is designed as a learning tool and mobile reference. The application works in two modes; Flashcards and Reference.
Have a question or would like to share your feedback, please send us an email at: kaplan@gwhizmobile.com
We hope you enjoy using Kaplans GRE Exam Vocabulary App!
About the Author
* Kaplan Publishing is one of the nations top publishers of academic and professional development resources. We publish titles on topics such as test preparation, college and graduate school admissions, academic and career development in the legal, medical, education, and general business fields. Kaplan Publishing is the leading provider of test prep materials for a variety of standardized tests, including the GRE, GMAT, LSAT, SAT, PSAT, MCAT, TOEFL, and more. Our mission is to help individuals achieve their educational and career goals. We build futures one success story at a time. For related products, please visit kaplanpublishing.com
*Kaplan is a registered trademark of Kaplan, Inc. For all references in this application, GRE is a registered trademark of the Educational Testing Service, which neither sponsors nor endorses this product.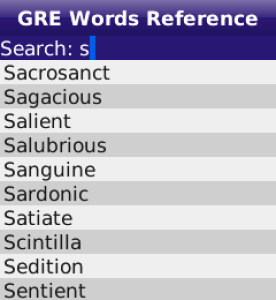 App Name:Kaplan GRE Exam Vocabulary Flashcards and Reference
App Version:1.0.3
App Size:370 KB
Cost:FREE
Filed Under: Education Apps Tags: GRE, Kaplan Publishing, MCAT, TOEFL Previous Post: MADDEN NFL 11 by EA SPORTS
Next Post: Scientific Method App