Kean Mobile provides the latest information about Kean University at the palm of
your hand. Founded in 1855, Kean University is a metropolitan, comprehensive,
interactive, teaching university. A campus dedicated to the pursuit of excellence in
higher education, Kean University supports a student-centered learning environment
that nurtures the development of the whole student for rewarding careers, lifelong
learning and fulfilling lives in a global society. Five undergraduate colleges and
the Nathan Weiss Graduate College now serve more than 14,000 students.
With the Kean Mobile suite, users can look up faculty and staff in the directory,
navigate the 150+ acre campus using the campus map, read campus news, check the
athletics schedules, and search the course directory.
Features:
Directory: Search for faculty and staff. With the tap of the screen users can email
that person.
Maps: Navigate the campus to find classes and programs. Users can use the devices
GPS locator to find their location on the campus map.
Athletics: View the latest athletics schedule and read about the games you missed.
News: Keep up to date with whats happening around campus with live feeds from The
Cougars Byte, Kean Athletics and the Alumni Association.
Courses: Search through the course bulletin and find classes and professors.
Events: Need to know whats going on today? Users can view the events calendar and
see what to do with their free time.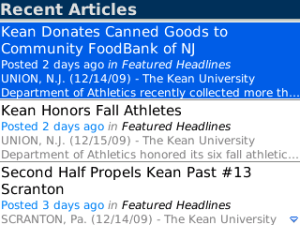 App Name:Kean Mobile
App Version:1.2.0
App Size:2898 KB
Cost:FREE
Filed Under: Education Apps Tags: Courses Search, Events Need, Kean Mobile, Kean University Previous Post: Mark Calculator
Next Post: iCert 220-701 Practice Exam for CompTIA A+ Essentials