My First Words Baby Picture Dictionary is an Audio Picture dictionary for toddlers and kids.
Has your child reached the age where its time to introduce new words? This app is a perfect way to teach them!
There are over 300 common English words used in day to day life.
Each word has a clear Native Audio which reads out the correct pronunciation.
There are animal sounds on touch of the Animals!
Special Features:
* Over 300+ clear words and photographs;
* The clear audio helps the child repeat the word.
* Fun & engaging voice artist keeps kids engaged
* Slideshow or manual play
* Customize font size
The words are divided in separate categories. The categories include:
Animals
Baby Things
Food
Shapes
Toys
Body Parts
Clothing
Feelings
On Wheels
Colors
Actions
Mommys Purse
Nursery Rhymes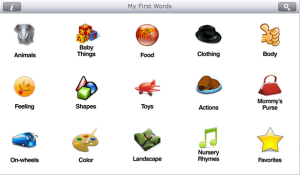 App Name:My First Words Baby Picture Dictionary for Kids and Toddlers on BlackBerry PlayBook
App Version:1.0.0
App Size:17601 KB
Cost:US$1.99 USD
Filed Under: Education Apps Tags: Native Audio Previous Post: Guitar Trainer
Next Post: Solutions